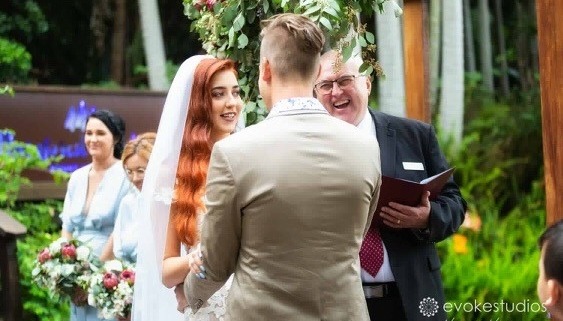 Changing your name through marriage in Australia
So, you are now married, and you would like to change your last name … what do you do?
Many people choose to use their spouse's family name once they are married—it's a custom and not the law.
If you were married in Australia, you don't need to apply formally for a change of name with Births, Deaths or Marriages in your local State.
Usually personal documentation, such as your driver licence and passport, can be changed to your married name when you provide a standard marriage certificate. This is not the Certificate provided at your wedding. A standard marriage certificate must be applied for through Births, Deaths or Marriages in the State where you were married.
When I marry a couple, I ask if they would like me to request a standard marriage certificate when I register the wedding.
How to change your name through marriage
If you choose to change your name when you get married, you'll need to tell various government agencies, banks, utility suppliers and other businesses your new married name.
You may be asked to:
send a letter or email
complete a change request form (online or one they send out to you)
visit an office in person.
Organisations will also have different requirements on what proof they need, some may want:
to see your standard marriage certificate
a certified photocopy of your standard marriage certificate for your account file with them
evidence of updated photo ID
a combination of identity documents
For more information go to: https://www.qld.gov.au/law/births-deaths-marriages-and-divorces/changing-your-name/changing-your-name-through-marriage or Births, Deaths or Marriages in the State where you were married.
https://www.michaeljanzcelebrant.com.au/wp-content/uploads/2018/11/tori-wesley-3.jpg
375
563
Michael Janz
https://www.michaeljanzcelebrant.com.au/wp-content/uploads/2018/09/MichaelJanzCelebrantLogo.png
Michael Janz
2018-11-22 07:46:12
2018-12-31 08:36:40
Changing your name through marriage in Australia