Fall in Love Again: 6 Simple-Yet-Romantic Activities For Couples to Enjoy
Do you want to fall in love again? Here are 6 simple yet romantic activities for couples to enjoy.
Movie nights, dinner dates, long walks on the beach – while these are the top romantic activities for couples, they get boring in the long run. You want something that helps you create wonderful memories with your partner, where the world becomes a blur and it's only you and your partner that matter the most.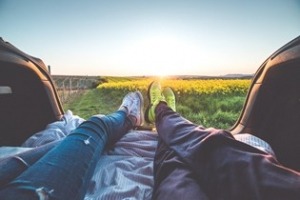 For that, you need out-of-the-box date ideas, those that are simple yet leave a good mark on your relationship. And you're in luck! We've got six simple-yet-romantic activities for couples like you to keep the love burning.
The best part about these ideas is that you don't need to spend plenty of bucks or get into a whirlwind of planning to do these. Just grab your partner and let your hearts, feet, and laughter let loose!
1. Fall in Love Again and take a bike ride
Rent a tandem bike and get both of your feet cycling through every street and corners of your area. Even if you're not trained cyclists, getting on a bike ride together will make you appreciate the athletic activity. You get to tick off your fitness goals for the day, and you also work on your teamwork skills at the same time.
Plus, nothing inspires interesting conversations than a road trip close to nature or the outside world.
Don't worry about the route – just let the wind take you wherever you feel like going. Who knows, you might discover new places in the community you never knew existed! However, if you're not one for the carefree vagabond setup, you can search for organized bike tours in the area.
2. Go stargazing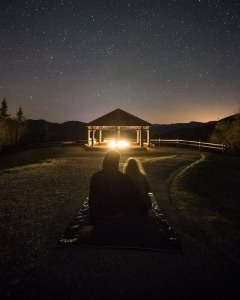 If you're out of simple date ideas, try bringing your partner under the night skies for a quiet time of admiring the twinkling stars above. Drive in a clear field or get into the rooftop and just lie down with your partner under the moonlight.
Bring your telescope or a pair of binoculars if you want to view the stars up close. Have a little game with your partner on who can point the most constellations in the sky. If you want to show off, brush up on your astronomy knowledge before heading out into the night.
To make things more romantic, grab some blankets and sleep under the stars. Nothing beats falling asleep to the lull of the wind at night and waking up to some warm sun rays!
3. Fall in love again and do a movie marathon date at home
Movie marathons may always be the top activity choice for couples that sometimes it already becomes boring. So to spice things up and continue your love for cinematic stories, spruce up your movie nights into something more personal and romantic.
Make your outdoor space a theater that doubles into the best cuddling spot! Rent out a projector and place it in the backyard. Then decorate the place with lights, build a pillow fort with snuggly blankets, and ready the popcorn and other snacks nearby.
Instead of watching something under your favorite genres, pick out something you've never dared to watch before. If you're both into action or sci-fi films, why not go for thrillers or the good ole' classics? Better yet, pick the most random movie! You might discover a new favorite by being a little adventurous with your cinematic choice.
4. Learn a new hobby together
What better way to learn more about each other and develop a stronger relationship than getting into a whole new activity together? Bring out the list of things you and your partner have always wanted to try and work on learning them together.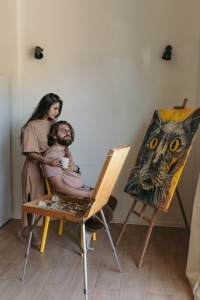 Always wanted to paint like Bob Ross but never found the time or motivation to grab the canvas and some paint? Then that's what you're doing on your next date with your special someone!
Or perhaps you both wanted to get into photography? In that case, bring out your DSLRs or your smartphone cameras and photograph everything around you. Collect every photo and create an online photo album so you'll have the best memory keepsake and progress tracker in one!
You don't need to be good at something for both of you to enjoy your new hobby. As long as you get good laughs and conversations out of it, don't stop pushing through the hobby.
5. Fall in love again and indulge in some video games.
If you and your partner are suckers for good stories, an adrenaline-seeking activity, something that permits friendly competition, or all of the above, try video games. These are good alternatives if you're already bored with Netflix.
And the best part? Whatever your preferred console is -Xbox, PS4, PC, or Nintendo Switch – there are literally thousands of game options at your fingertips.
Are you both fans of action movies? Try GTA V, PUBG, Injustice, or the classic Call of Duty.
Want to immerse yourself in a different universe? Go wild on Minecraft, Stardew Valley, Subnautica, or Animal Crossings: New Horizon (you can also go on virtual dates here).
Even if you're new gamers, you'll find something you'll get hooked on!
6. Start gardening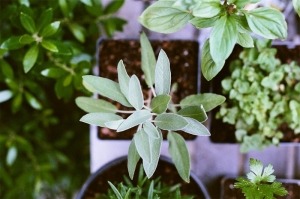 Having a little relaxing hobby pays to keep your sanity and relationship balanced. So why not try gardening?
Sure, you'll need to get your hands dirty, but the immersive experience with nature is the actual fun part here. Surrounding yourself with a greener environment also helps your cortisol levels to go down, making you and your partner experience tranquility while at home.
You can start your journey to a greener life with some succulent plants like such as cactus, snake plant, aloe vera, and Mexican snowball. They're low maintenance, and they take up little space in your garden.
If you want to get into cooking, you can also start an herbs garden at home. There are plenty of seeds for common herbs available today, and they're low maintenance like succulents too.
Spending time together doesn't need to be grandiose all the time when you fall in love again
Sometimes, it's the little gestures we do to the love of our lives that leaves the best memories in their hearts. So the next time you're out of activity ideas with your special someone, why not keep it simple and meaningful? There are plenty of date night ideas you can try with your partner, but take the liberty of starting with those from this list!
https://www.michaeljanzcelebrant.com.au/wp-content/uploads/2018/09/MichaelJanzCelebrantLogo.png
0
0
Michael Janz
https://www.michaeljanzcelebrant.com.au/wp-content/uploads/2018/09/MichaelJanzCelebrantLogo.png
Michael Janz
2020-10-26 14:00:29
2020-10-26 14:00:29
Fall in Love Again: 6 Simple-Yet-Romantic Activities For Couples to Enjoy